Christmas Chocolates
---
Our Christmas collection is now available to buy online! A handpicked selection of our Luxury Handmade Chocolates, Wine and Chocolate Gift boxes and Handmade Chocolates Gifts are in our new Christmas shop. Our new Christmas Chocolates range includes our bespoke Aphrodite boxes and ballotins crammed full of our luxury handmade chocolates,  plus our Christmas themed Festive Ballotins!
Also available to buy online now are our exclusive range of Wine & Chocolate Gift Boxes – Vintage Claret or Prosecco, delivered with our scrumptious handmade luxury chocolates in a presentation box. The perfect Christmas Chocolate Gift for that special someone….
Welcome to Aphrodite Chocolates!
---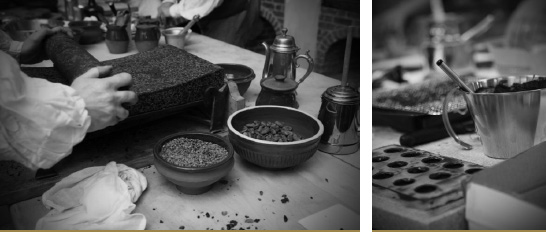 Aphrodite Chocolates, a family-run business, have specialised in creating the finest of Artisan luxury handmade chocolates since 1997. From the heart of the Derbyshire countryside, we handmake each and every one of our beautiful and luxurious chocolate creations – from innovative and unusual chocolate collections, to the more traditional of flavours; from Easter eggs filled with handpicked selections of our scrumptious chocolates, to chocolate covered figs filled with spiced brandy mousse – we've tried it all!
On our website you'll find our beautiful, contemporary boxes, crammed full of our chocolate delights, decorated with our bespoke Aphrodite ribbon. Are you more of a vintage wine lover? Don't worry! We have something for you too – our chocolate and wine gift boxes; a bottle of Vintage Claret from an Artisan winemaker, packed into a presentation box, along with two handpicked boxes of our amazing luxury handmade chocolates. Prefer something with a little more fizz? Try our Prosecco and chocolates gift box instead!
Whether it's a luxury handmade chocolates gift for that someone special, something to curl up on the sofa with, or a specialised and individual order – we have that perfect something waiting for you….
Our Christmas chocolates are now available to buy in our shop – whatever your needs, we have the perfect Christmas Chocolate Gifts. Buy for that special someone…or just treat yourself!
Our Favourites
---
Our top picks from the range of products we create by hand in Derbyshire. Chosen for the true chocolate connoisseur. From luxurious chocolate gifts to single origin blends - we've got something for everyone at Aphrodite Chocolates.
Christmas Chocolate Gift Ballotin
Our mouthwateringly delicious luxury handmade chocolates presented in a Christmas themed ballotin.
Details
Add to cart
Chocolate Gift Box
Mixed selection our sumptuous luxury handmade chocolates, presented in our bespoke Aphrodite box.
Details
Add to cart
Prosecco and Chocolate Gift Box
The ultimate gift of luxury handmade chocolates and Prosecco.
Details
Add to cart
No products found