Delivery Information
---
---
COVID19 OMICRON UPDATE
Please note that due to continuing Corona/Omicron Virus issues, deliveries may be affected by delay's until further notice. Also, our guaranteed services are temporarily extended by 24hs, and are no longer guaranteed by the carrier. So our next day service is now delivery within 2 days, with no guarantee. We apologise for any inconvenience, however, we are living in very strange times and the situation is beyond our control, stay safe…
CHRISTMAS 2021 UPDATE – Our last Orders dates/times for delivery before Christmas are:
2nd Class Post – 10:00am Friday 17 December
1st Class Post – 12:00 Tuesday 21 December
Courier Delivery – 12:00 Thursday 23 December
Please note, the above dates/times are based on Royal Mail & Courier advise, we cannot be held responsible if items ordered are not delivered before Christmas.
---
We offer delivery within the UK Only, we regret we can no longer deliver outside the UK – we'll send your chocolates by Royal Mail 1st and 2nd Class Post with delivery confirmation tracking, so you can check your order was delivered, selectable at checkout.
If you'd rather know exactly where your chocolates are at all times, or need them to arrive on a certain day, it's no problem! We offer a guaranteed next day delivery service. As long as you order by 12pm, we'll guarantee that the chocolates will be with you by the next day – please note that ALL delivery guarantees are suspended for the duration of the Covid pandemic. This option is available to select at the checkout.
 Next Day service delivers Monday – Friday, excluding bank holidays.
We've gotten pretty good at shipping our orders promptly, and most of our orders are sent out same day if received before 2pm UK time – if there's any reason why that won't be the case then we'll let you know.
At peak times (Christmas, Easter etc) we do get pretty busy, so if you're desperate and need something quickly then just give us a ring – we've become pretty good at working miracles!
We do go above and beyond to dispatch all our orders on time, so you should receive delivery of goods within the Royal Mail time-scale guidelines however, we rely on the Royal Mail and courier delivery partners for prompt delivery and so can't accept responsibility for late arrival due to delays in the post which are beyond our control.
We regret we no longer ship internationally.
---
 Late Despatch of Orders
In the unlikely event of us being unable to despatch your order within our published time-scale, we will contact you immediately to discuss alternatives. If a suitable alternative is unavailable then we will arrange for an immediate refund.
---
 Cancellation of Order (non perishable goods only):
You may cancel orders for non perishable items at any time within 14 days of order without reason, for a refund of the full purchase price less postage and packing charges. This is, of course, conditional on the return of goods to us unopened, in their original packaging and in re-saleable condition, within 14 days from date of cancellation.
---
 Hot Weather Conditions
One of the problems with chocolate, is that it melts when it gets too warm – a fantastic problem when the chocolate in question is in your mouth, but not so good when it's still on it's way to you! Because of this, we ask that you consider the current ambient temperatures and the before placing the order. We ensure that the chocolates are sent in perfect condition, and that they are sent in the coolest part of the day, but we can't take any responsibility for chocolates that have melted – it's just what chocolate does!
---
 Damaged Goods
If our goods don't reach you in perfect condition (excl damage caused by hot weather) then please contact us immediately with the details and we will authorise their return for a replacement at our cost, or a full refund (including postage & packing) – it's your choice.
If there is a problem we ask you to please let us know, either by phone or email, and we'll sort it out for you. After all, chocolate should make you happy not upset!
If the damage was caused during shipping, then it really helps us if you can take photo's and/or retain and return the packaging.
---
Refunds
We  normally issue refunds on the next working day after the refund was agreed or the day after we receive the returned goods, but in any event, not later than 30 Days from the date the refund was requested. Subject to all relevant conditions being met in full.
Our Favourites
---
Our top picks from the range of products we create by hand in Derbyshire. Chosen for the true chocolate connoisseur. From luxurious chocolate gifts to single origin blends - we've got something for everyone at Aphrodite Chocolates.
Chocolate Gift Ballotin – Primrose Yellow
A handpicked selection of our chocolates, presented in our Aphrodite Gift Ballotin.
Details
Add to cart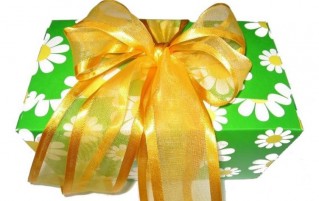 Floral Gift Ballotin – Daisies
Gift Ballotin in a floral design, filled with a selection of our chocolates.
Details
Add to cart
Coffee Cream Chocolates
A selection of our chocolates from across the range, presented in a bespoke Aphrodite Gift Box.
Details
Add to cart