The most amazing Chocolate and Lime Lava Cakes….
---
Hello people! To celebrate the launch of our new Aphrodite Chocolates website, I decided to put a recipe here on the blog. I was considering putting up a recipe for a Chocolate and Lime truffle, but then I thought – why truffle when you can cake?
Picture, if you will, a small, deeply flavoured, mouthwateringly rich truffle. Encased in the darkest of chocolate, nestles a rich, creamy, delight with deep rivers of chocolatey flavour that undulates across your tongue while zinging your taste buds with the tang of lime. Is that picture clear in your mind? Now envisage it the size of a cake. Is your mouth watering yet? Yes? Then lets stop tantalising ourselves with the idea and get on to the reality….
This is a recipe that I've used on countless occasions – the richness of the dark chocolate, countered by the sharp tang of the lime is, quite frankly, heavenly. And what's more, its amazingly simple and easy to make 😀 These bad boys can be made in advance and refrigerated in their little pots until you want to cook them, although I wouldn't advise leaving them for longer than 6 hours as this can make the finished cakes a little tough.
Ingredients
350g high quality dark chocolate – it MUST be of the highest quality….the higher the quality of the chocolate, the better the end result will be 😉
150g caster sugar
50g unsalted butter
50g plain flour
4 large eggs, beaten
1 teaspoon vanilla extract
Finely grated zest of 1 1/2 limes
6 individual pudding moulds
Method
Firstly, prepare your pudding moulds – butter the bottom of each of the moulds – don't butter the sides of the mould, as this will prevent the cake batter from adhering to the sides of the tin during baking which will inhibit the cake rising. Put them on a sheet of parchment paper and draw around the base, then remove the moulds, cut out the circles and press one into the base of each tin – the parchment will stick to the buttered bottom.
Melt the chocolate – use a microwave for this, just blast the chocolate on medium power for 30 seconds at a time and stir well in between. Be careful not to overheat, as the chocolate will burn if you do. Put the melted chocolate aside to cool for a few minutes. Cream together the butter and sugar, mixing until it's light and fluffy, then add the eggs gradually and then the vanilla extract. Once combined, add the flour and mix until smooth, then add the melted chocolate and lime zest and combine until it's smooth, glossy and gorgeous.
Divide the mixture between the 6 moulds. At this point you can refrigerate the moulds until you want to use them, or cook them immediately. Preheat the oven to 200C and put in a baking sheet at the same time – using a preheated baking sheet will help the outer part of the cakes cook evenly and quickly. When the oven is at temperature put your little pots of awesome onto the hot baking tray and slide them into the oven. Bake for 12 minutes if cooking immediately, or 14 minutes if they're coming straight from the fridge. Make sure you use a timer!! If you cook them for even a minute too long then the inside will be more sponge then lava – still lovely but less truffley and unctuous! You'll know that they're ready when the top looks cooked, but there are still little areas with volcanic chocolate breaking through the surface.
They must be served immediately from the oven – run a knife around the inside of the mould to loosen the sides and turn them out onto plates. Accompany with extra thick double cream (my personal favourite), or anything else that makes your mouth water, and, well, eat <3
Lia x
©2004 – 2015 Aphrodite Handmade Chocolates
If you like this recipe, why not link to it from your website or blog… Or, if you wish to copy this article you may do so subject to the following conditions:
PERMISSION TO COPY. This article is Copyright of Aphrodite Handmade Chocolates and is protected by international copyright law. You are more than welcome to copy it for personal or non profit, or educational purposes and you have our permission to do so, provided it is copied and re-published in it's entirety complete with copyright notice and website address. If you wish to copy it for electronic publication on an intranet, website, blog or Newsletter you may do so provided  the article is copied and re-published in it's entirety with all html, copyright information and hyperlinks intact and unaltered in any way with no redirects. If you wish to copy it for any other purpose please contact us for permission first.contact@aphrodite-chocolates.co.uk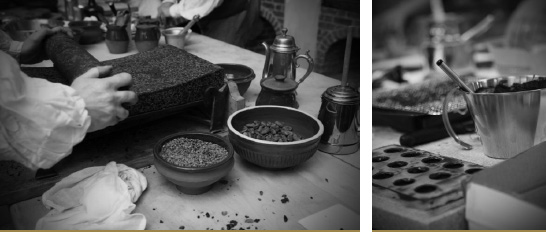 Welcome to Aphrodite Chocolates!!
---
Aphrodite Chocolates, a family-run business, have specialised in creating the finest of Artisan chocolates since 1997. From the heart of the Derbyshire countryside, we handmake each and every one of our beautiful and luxurious chocolate creations – from innovative and unusual chocolate collections, to the more traditional of flavours; from Easter eggs filled with handpicked selections of our scrumptious chocolates, to chocolate covered figs filled with spiced rum mousse – we've tried it all!
On our website you can find our beautiful, contemporary boxes, crammed full of our chocolate delights, decorated with our bespoke Aphrodite ribbon. Are you more of a vintage wine lover? Don't worry! We have something for you too – our chocolate gift hampers; a bottle of Vintage Claret from an Artisan winemaker, packed into a presentation box, along with two handpicked boxes of our amazing chocolates. Prefer something with a little more fizz? Try our Prosecco and chocolates hamper instead!
Whether it's a chocolate gift for that someone special, something to curl up on the sofa with, or a specialised and individual order – we have that perfect something waiting for you….
Lia x
The Health Benefits of Chocolate
---
It's the run up to Christmas and if (like me!) you'll be spending the vast majority of the next month or so eating your way through the Christmas chocolate selection, then (like me!) you'll probably be feeling slightly podgy, slightly sick, and slightly GUILTY about all the chocolate you've managed to cram in! This element of guilt about eating chocolate is something that's probably familiar to most of us – everything in the media today tells us that eating chocolate is nothing but BAD! That it raises cholesterol, contributes to the obesity epidemic, and is an unhealthy choice as a 'treat' food. What isn't made more clear is that it isn't the base content of chocolate, cocoa solids, that are unhealthy, but the saturated fats, sugar and hydrogenated vegetable oils contained within some of the chocolates available to buy out there that are the truly unhealthy parts.
Good quality, high cocoa solid chocolate actually has health benefits (huzzah!!)! Want to know what they are? Read on
THE HEALTH BENEFITS OF CHOCOLATE
Chocolate that is high in cocoa solids (70% or more) is now recognised as having many qualities that are beneficial to health:
Chocolate contains essential trace elements and nutrients such as iron, calcium and potassium, and vitamins A, B1, C, D, and E.
Cocoa is also the highest natural source for Magnesium. Magnesium deficiency is linked with hypertension, heart disease, diabetes, joint problems and pre-menstrual tension (PMT or PMS).
There are benefits in Chocolate for both men and women:
The high Magnesium content of Chocolate is beneficial for the Cardiovascular System and hypertension.
It's a pre-menstrual drop in progesterone levels which is responsible for the violent mood swings familiar to so many women (and their families), adding magnesium to a sufferers diet has been proved to increase pre-menstrual progesterone levels, thus helping alleviate the symptoms.
The trace elements and vitamins contained within chocolate assist in providing the body with the essential nutrition that it needs to function healthily and effectively.
WHAT IS THE HEALTHIEST CHOCOLATE?
In essence, the higher the cocoa solids (and the lower the additives, such as sugar, oils and additional fats), the better for you it is. With this in mind, dark chocolate products containing a minimum of 70% or more cocoa solids are the healthiest way to satisfy a craving for chocolate, without consuming too much sugar or saturated fat. Not mad keen on plain dark chocolate?
At Aphrodite Chocolates we make our chocolates using 70% cocoa solid couverture, mixed with natural ingredients, such as fruit purees and juices or nuts, meaning that you can get your sweeter chocolate hit with little or no added sugars, oils or fats. If you're more of a milk chocolate lover, our milk selections are made with 55% cocoa solids, so it's still fairly good news for the health conscious out there! For all you white chocolate lovers out there, the bad news is that this is by the unhealthiest chocolate! Our white chocolates are made from 35% cocoa solids, so whilst it's not the best chocolate to go for it still has some of those all important health benefits!
Chocolate lovers go wrong by choosing cheap (& not so cheap!) chocolates, low in chocolate solids and high in additional sugars and fats. It is these that are disastrous for health and teeth – NOT chocolate!
If you love chocolates and want to continue enjoying them without feeling guilty for doing so then follow these simple steps:
DO try to ensure that the chocolate you buy contains the highest % of cocoa solids.
DO try to ensure that the filled chocolates you buy are made using natural ingredients and NO added sugars!
Lastly, and most importantly – remember to ENJOY every mouthful!!
Lia x
©2004 – 2015 Aphrodite Handmade Chocolates
If you like this article, why not link to it from your website or blog… Or, if you wish to copy this article you may do so subject to the following conditions:
PERMISSION TO COPY. This article is Copyright of Aphrodite Handmade Chocolates and is protected by international copyright law. You are more than welcome to copy it for personal or non profit, or educational purposes and you have our permission to do so, provided it is copied and re-published in it's entirety complete with copyright notice and website address. If you wish to copy it for electronic publication on an intranet, website, blog or Newsletter you may do so provided  the article is copied and re-published in it's entirety with all html, copyright information and hyperlinks intact and unaltered in any way with no redirects. If you wish to copy it for any other purpose please contact us for permission first.contact@aphrodite-chocolates.co.uk